Safe work is one of the most important aspects of any industry. That's why, this year, Mid-Canada Forestry and Mining is publishing a special report on Safety, detailing advancements made in 2022 that will help keep you and your employees safe on the job.
---
Exploring VR, AR, and MR to Enhance Training Safety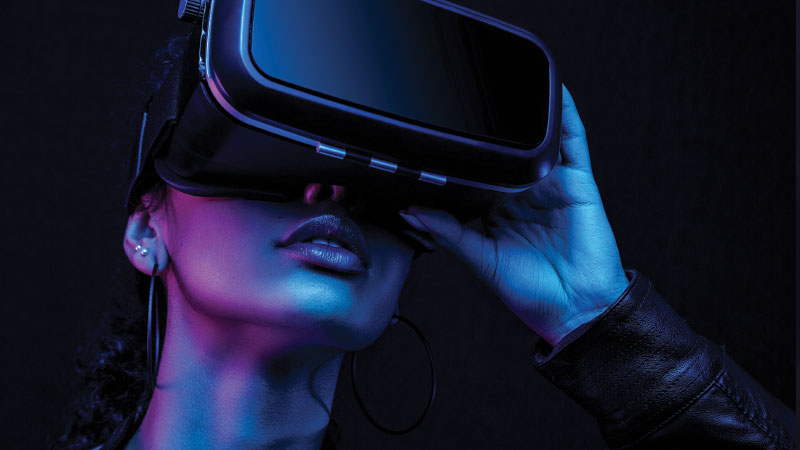 The world is changing. As companies in Canada work to reduce their emissions while training new employees to combat shortages in staffing, many may struggle to find a balance. How can you train someone to operate heavy machinery without operating that heavy machinery for an extended period of time? This is why we are seeing a rise in training by using virtual reality (VR), augmented reality (AR), or mixed reality (MR) in a variety of industries across the globe.
According to a report published by GlobalData Thematic Research, a global analytics organization, this technology is especially useful in ensuring safety, as it enables the immersive training of mineworkers while bypassing the unnecessary risks of on-the-job training.
Several companies across North America have hopped on this trend, such as Glencore, Rio Tinto, and Anglo American. According to GlobalData, Anglo American spent $90 million on training in 2019, which included the launch of a LEARN+ platform that included AR learning experiences to train staff.
Also in Canada, NORCAT, a global leader in the development and provision of skilled labour training and development services, partnered with Vale to release Vale VR, a method of delivering equipment operator training for enhanced safety, efficiency, and productivity for mine training operations. The program includes virtual reality pre-operational circle check training tools and exercises for mine equipment, including forklifts and utility vehicles. This past December, the program won the Education and Training of the Year Award at the fifth International VR Awards.
"We are truly honoured to be named the winner of the VR Education and Training category at the 2021 VR Awards," said Ed Wisniewski, NORCAT's Chief Technology Officer. "The Vale VR experience is just one example of the virtual learning technologies NORCAT is developing to provide meaningful learning experiences that are re-defining the future of training and development. This award is a huge recognition of NORCAT's work to engage, educate, and strengthen the global skilled labour workforce to ensure workers have the skills, competencies, and confidence to do their job both safely and productively."
Wildfire Prevention and Safety
In early February, the Canadian Council of Forest Ministers launched the Canadian Dialogue on Wildfire and Forest Resilience to support the development of a pan-Canadian Wildland Fire Prevention and Mitigation Strategy. This comes after a particularly difficult year of wildfires, which affected Canadians from coast to coast.
Already, those in BC are being urged to be "fire-smart." According CBC News article, published on April 25, 2022, the province had already seen 68 wildfires in April.
Wildfire season usually runs from April through to September. Canada experiences around 7,300 wildfires each year, burning an average of 2.5 million hectares of land.
"In its National Issues Report, released last June, Natural Resources Canada recognized the important role that Canada's forest sector and its workers play in mitigating the risk of fires across the country," noted Kate Lindsay, FPAC's Senior Vice President, in a press release. "Forestry professionals are increasingly working with communities, Indigenous Peoples, academia, governments and key partners in supporting fire risk mitigation. We are encouraged by the launch of the national dialogue as well as work underway on a National Adaptation Strategy."
Across the country, federal and provincial governments are investing money to help prevent fire crisis in 2022. On March 23, the Government of Saskatchewan announced that it was providing $94.9 million in funding from the 2022–23 Provincial Budget for the Saskatchewan Public Safety Agency to continue protecting Saskatchewan people and creating safe, strong communities.
The budget includes a capital investment to modernize the province's aerial wildfire suppression fleet to replace obsolete aircraft, including a Turbo Commander Bird Dog and a CL215T Air Tanker that will be delivered in 2022.
On April 27, the Province of Manitoba announced that it will spend $1.6 million this year to install new radios in three CL-215 water bombers to ensure compatibility with the province's new public safety communications network, water door warning systems and corrosion protection on four CL-415 water bombers to ensure safe operation, and the construction of two 12-person bunkhouses at Wekusko Falls initial attack base to support northern wildfire operations.
"Investing in our provincial water bomber fleet is essential as it plays an important role in our government's climate resiliency strategy," said Scott Fielding, Natural Resources and Northern Development Minister. "Strategic investments in the prevention and suppression of wildfires will help ensure the ability to prepare and respond in managing wildfire risks to protect Manitobans, forestry and provincial natural resources."
Mine Rescue Competitions Resume After Pandemic Hiatus
As events resume around the country, mine rescue competitions are also back after several years of hiatus due to the COVID-19 pandemic – including the 2022 Manitoba Provincial Mine Rescue Competition, which was on May 27–28, 2022 at T1 Mine in Thompson, MB, and hosted by Vale's Manitoba Operation.
According to a press release from the Mining Association of Manitoba (MAMI), this event was the first mine rescue competition in the province since provincial health restrictions were imposed in spring of 2020. Mines rely upon competition like this to hone their mine rescue teams' skills and experience and evaluate their performance against standard operating procedures and environments.
The competition ran through a range of settings, including scenarios underground and aboveground, using courses and structures set up over a range of buildings and grounds throughout the Vale mine site. The testing included rescue missions, first aid challenges, firefighting, and written exams – all overseen by judges Neil Spencer of Sling-Choker Mfg. (Thompson) Ltd. and Jamie Mortson of Alex MacIntyre & Associates Ltd, both certified independent Manitoba mine rescue instructors.
Manitoba's 59th Provincial Mine Rescue Competition competitors included teams from Hudbay Minerals Inc. (Flin Flon), Hudbay Minerals Inc. (Snow Lake), Tantalum Mining Corporation of Canada (Bernic Lake), and Vale-Manitoba Operations (Thompson).
"Effective mine rescue teams are critical to a mine's operation, plus serve as role models to their peers in an industry that relies upon a safety-centric culture," explained Stacy Kennedy, Co-Chair of MAMI's Mine Rescue Committee. "We're eager to return to competition to ensure that the skills of our mine rescue personnel remain sharp, and the industry in Manitoba continues to build on its record of strong safety performance."
MAMI states that this year's competition was bittersweet as it will be the last year that the 777 Mine in Hudbay Flin Flon will be sending a team due to their anticipated closure in late 2022, after more than 90 years in operation. However, many of the 777's labour force and mine rescue team members are expected to transition to Hudbay's Lalor Mine in Snow Lake next year.
Other mine rescue events resuming after the pandemic hiatus are the 52nd Annual Emergency Response Mine Rescue Skills Competition, which was held on June 4, 2022 in Saskatoon by the Saskatchewan Mining Association, and the International Mines Rescue Competition, which will be held on September 9–16, 2022 in West Virginia.